Whether you need to insert a 50-page document, a glossy booklet up to 6mm thick, or anything in between, this system can meet the challenge. Its modular design offering up to 11 feed stations, with high-capacity feeders, and a standard capacity of up to 2,000 sheets. The top-loading envelope hopper holds up to 800 #10 envelopes or 500 flats, in landscape orientation. Inserting into landscape flats offers higher processing speeds, fewer jams, and lower envelope costs.
A 15" color touchscreen interface guides operators through job programming and functions, and with unlimited programmable jobs, it's even easier to run recurring or frequently processed applications. The 7200 Series has optional High-Capacity Intelligent Feeders with the ability to read 1 and 2-track OMR, 1D Barcodes and 2D Data Matrix, and these codes can be located anywhere on the document. Infrared and electromechanical Double Document Detectors help to ensure the correct documents get into each envelope. These features allow for the automatic insertion of multiple-page documents, eliminating the tedious task of manually collating and inserting.
The 7200 Series has the power to process up to 4,800 envelopes per hour, up to 200,000 finished pieces per month. The robust folding system folds up to 8 sheets at a time. Feeders can also be linked with a Cascade Mode to maximize output by connecting feeders filled with the same document. When one feeder empties, the next automatically starts feeding. Optional High-Capacity Versatile Feeders are top loading making it easy to reload on-the-fly, and provide the ability to insert a variety of media, including glossy booklets, DVDs and small inserts.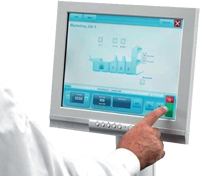 Modular Design: Flexibility to add feed stations, from 1 to 11
Intuitive User Interface

: 15" color touchscreen
Quick and Easy Setup

: Automatic job setup with document & envelope library
Programmable Jobs

: Unlimited
Flats Insertion

: Inserts into landscape format flat envelopes, up to 10" x 13"
Versatile

: Inserts sets of up 50 sheets, up to 6mm thick
Fast

: Processes up to 4,800 envelopes per hour
Duty Cycle

: Up to 200,000 envelopes per month
Powerful Folding Capacity

: Folds up to 8 sheets at a time
Fold Types

: C, Half, Z, Double Parallel and no fold
Document Feeder Capacity

: Standard up to 500 each, high capacity up to 1,000 each
Envelope Feeder Capacity

: Up to 800 #10 or 6" x 9.5" envelopes, up to 500 10" x 13" landscape flats
Double Document Detection

: Infrared and electromechanical
Interactive Display

: Predictive Intelligence shows time remaining until job completion
Automatic Document Measurement

: Measures inserts for easier job setup and operation
Reads All Code Types

: Single-Track OMR, Dual-Track OMR, 1D Barcode, 2D Data Matrix Barcode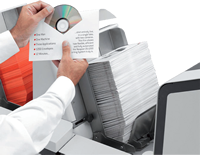 Various Media: Inserts coated & glossy booklets or DVDs, with optional High Capacity Versatile Feeders
Feeder Linking

: Process up to 2,000 continuous sheets
Daily Mail Mode

: Dedicated semi-automatic feed tray allows for feeding stapled or unstapled sets
Air Assist

: A controlled, focused jet of air helps to open envelopes for more accurate insertion