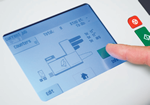 The 6204 Series brings advanced folding & inserting technology and flexibility to the office environment. A large, color touchscreen control panel with wizard job feature easily guides operators through setup and operation. AutoSet™ allows for one-touch setup of new jobs by automatically measuring paper lengths, envelope sizes and fold lengths. Recurring and frequent jobs run in AutoSet™ can also be stored as one of 15 jobs accessed with the push of a button. The powerful folding system enables the 6204 Series to accurately fold up to five sheets of paper at the same time.
The 6204 Series has double document detectors located at each feed station to ensure document integrity. These are electromechanical detectors, and are unaffected by dust, smudges or paper color. The optional OMR software and hardware (available only on the FD 6204-Advanced 2) allow for the automatic insertion of varying multiple page documents, up to 5 sheets. OMR determines which documents go together into each envelope, eliminating the tedious task of manually collating, folding and inserting.
The user-friendly color touchscreen gives step-by-step prompts and guidance with job wizard assistance, while the AutoSet™ feature automatically detects and sets paper length, fold type, envelope size, fold length and double document detection. To make operation even easier, up to fifteen frequent and recurring jobs can be programmed for access with the touch of a button. The convenient drop-in feed system and easy-access paper paths increase efficiency and maximize output.
Folds and/or inserts sheets, business reply envelopes and cards automatically in almost any combination
Multi feeding: Allows for a set number of pieces (1-3) to be pulled from one feeder, then collated, folded and inserted automatically
Folding only without inserting
Daily Mail mode for inserting stapled sets
One or two fully-automatic sheet feeders
One automatic insert / BRE feeder (6204 Advanced 1 and 2)
User friendly color touchscreen display with job wizard step-by-step setup guides
Fifteen programmable fold applications
AutoSet™ one-touch setup
Fully automatic adjustments
Seal and non-seal capabilities
Tip-to-tip envelope sealing for enhanced security
Two counters:
One resettable for addition and batch counting
one non-resettable
Four adjustable insert fingers
Double document detection
Folds and inserts up to five sheets of paper
Fold types:
C
V
Z
Double Parallel
No Fold
Clamshell design for easy access to paper path